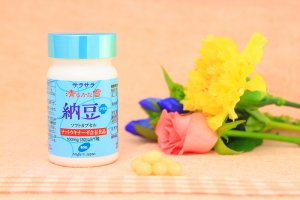 We have renewed our product "Kiyorakanayuki" Natto to the Natto Plus, and released in Aug. 2015
"Kiyorakanayuki" Natto Plus, is the latest version that Dr. Sumi suggested. Instead of 50mg/capsule of Nattokinase, now it is 100mg/capsule. So you only need to take 1 capsule per day. Also, we removed the caramel color to make it more natural. We kept the 60 capsule/ bottle design, so now it is 2 months volume. 
Please continue supporting our products and service.